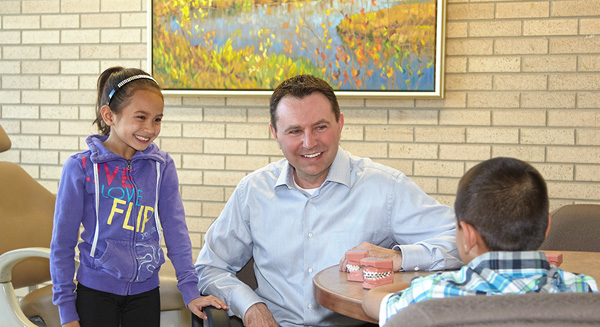 A Love for My Patients' Smiles
It's great to live and practice orthodontics in Saskatoon, where I run into former and current patients and their families on a daily basis. My kids know that when I stop on the street or in the store to talk to someone they don't recognize, it's probably one of my patients.
I am truly blessed to be in such a wonderful community. I enjoy getting to know each patient and the family on a personal level. Our conversations, and the lasting friendships that result, are incredibly rewarding.
It's an honor to know that I have made a positive, long-term difference in the lives of so many people. I couldn't ask for a better profession or for a better group of people to be sharing their smiles with me.
Education and Commitment to Continuing Education
Doctorate of Dental Medicine — University of Saskatchewan
Master of Science in orthodontics — University of Manitoba
Orthodontics is a constantly evolving specialty. With the development of new technologies and treatments, we're able to provide even stronger results in a timely, comfortable manner. I owe it to my patients to offer them the best care and treatment available. By participating in continuing education courses, lectures, and meetings, I'm constantly learning and expanding my skills.
Professional Memberships
Canadian Association of Orthodontists, past director
Saskatchewan Society of Orthodontists, past president
Saskatoon Dental Society
Pacific Coast Society of Orthodontists
American Association of Orthodontists
Personal Life
I was born and raised in rural Saskatchewan, and have lived in Saskatoon since 1988. My wife Wendy and I have four young children: two boys and two girls. Outside of work, I stay busy with family life, especially coaching my kids' sports teams. I'm also active in many outdoor sporting and other events in the Saskatoon area.
If you would like to schedule an appointment with Dr. Todd Jarotski, or have any questions, please contact our Saskatoon orthodontic practice today!